By Jano Tantongco
jtantongco@longislandergroup.com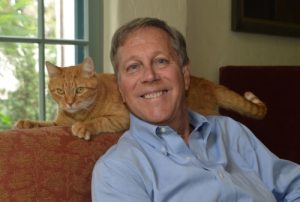 Award-winning poet, writer and former National Endowment of the Arts chair Dana Gioia will be honored by the Walt Whitman Birthplace Association on April 30 with an award dubbing him a "Champion of Literacy" for his work supporting the arts.
Gioia served as the NEA chair from 2003 to 2009, helping its recovery from cuts in the late 1990s. He started programs like Poetry Out Loud in 2005, a national poetry recitation competition, which encourages students to learn about about the literary art form through memorization.
Though the NEA and other such institutions have been eyed by President Donald Trump for cuts, Gioia stated little worry in the NEA's future.
"Although President Trump has requested that the NEA and other cultural agencies be eliminated, the National Endowment for the Arts is in no danger. There is enough bipartisan support in both houses of Congress to keep the NEA safe," Gioia stated.
Gioia further said that during his tenure, the endowment built that support by crafting high quality art education programs throughout the nation, with a special focus on underserved communities. He said Congress "appreciates and understands" the value of such programs.
"The left and the right love to squabble in public about the NEA, reliving the controversies of the previous century. It is a sort of dark political nostalgia," Gioia stated. "Public support of the arts and arts education is not a divisive issue. There is neither public support nor Congressional will to eliminate the NEA beyond a small group of the hard Right."
Aside from his advocacy work, Gioia is currently occupied serving as Poet Laureate of California. Though he said he's obligated only to make three public appearances a year in the role, he's embarked on an ambitious goal: visiting each of the state's 58 counties.
His trip to New York includes stopping by Fordham University and is the only out-of-state trip in the first half of the year he's making.
He'll be appearing to receive his award at the birthplace (246 Old Walt Whitman Road, Huntington Station) from 2-4 p.m. The program is free and open to the public, with refreshments to be served.
"I find that the most useful public appearance for poet is one which mixes, performance with conversation and allows a dialogue with the audience," Gioia said. "It's always exciting for me to come back to New York."